Our Approach
Our Process -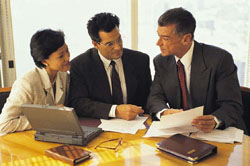 We are dedicated to helping our clients accumulate, distribute, protect, preserve and transition wealth from one generation to the next. We are completely independent, so our loyalty belongs exclusively to our clients.
Our independence enables us to establish working relationships with a number of industry-leading money managers, insurance & investment firms and product providers whose products we leverage to create customized client strategies. Each client's situation is very unique and different and presents new challenges and opportunities. We work with teams of industry expert professionals, accountants, attorneys, actuaries, CFAs, CPAs, to develop, implement and co-ordinate solutions, strategies, products, and services that are tailored to each clients' unique needs.
The investment advisor representatives in our firm work primarily on a fee or fee-based compensation. Our advisors' focus is on your needs and helping you achieve your overall long-term goals and objectives by recommending strategies designed to increase your probability of success. There are no sales quotas or any hidden agendas. This approach helps to ensure that you receive cost-effective, objective advice that serves your needs. It also means that we are here for you, ready to offer ongoing financial guidance whenever you need it.
We follow a consistent approach and get to know our clients, their families, and advisors so that we can implement sound recommendations. We continually monitor and evaluate our strategies for our clients to try to avoid any potential unexpected results. By understanding physicians' and dentists' unique needs and utilizing our advanced technology tools, we are able to help organize, streamline, and simplify our clients' financial affairs. This enables you to have the confidence to know that your professional team of advisors is continually striving to oversee the financial affairs that you have entrusted to them so you can sit back, relax and enjoy your free time do the things you enjoy most with the people you love.
Contact us today to discuss how we can assist you!
Investors should note that the deductions of fees will impact overall account returns.